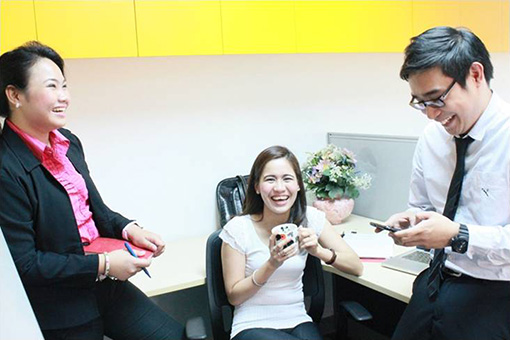 THE RSBA EDGE
In RSBA, every year, you are provided with more opportunities, and the responsibilities that come along with it. Our clientele is composed of top corporations and small-medium entities, which are equally distributed to the employees.
With the help of your teammates, we develop your understanding of not only the theoretical side of audit, but also its application. You will be equipped with a working knowledge of tax compliance and other regulations.
If your objective is to learn, being an RSBA member will give you the confidence and the edge in your future career plans.
THE CAREER LADDER
In RSBA, you are evaluated by your output and not your tenure. If you are driven and have the passion for learning and constantly improving yourself, you have the chance of getting promoted.
If you have asked our current employees and our alumni, they will tell you that we acknowledge superb performance. Some may have the opportunity to be promoted this year, even though he or she was promoted last year.
We provide guidance to those who have supervisory functions. We train them not to be mere leaders, but CHANGE AGENTS.
THE BENEFITS
We offer a competitive salary, and other benefits that will help attain your professional needs.
Our package includes:
Health Card
Annual Physical Examination (APE)
Memberships with PICPA
Renewal of PRC License
Loyalty Award
TRAINING AND DEVELOPMENT
We provide training on a semi-annual basis and as needed. This provides our professionals to be updated with PFRS, BIR and SEC and our Audit Methodology.
We also provide soft-skill training that will help develop a fully-rounded professional. Soft-skills include Business Writing, Public Speaking, Microsoft Excel Proficiency and others. The trainings also develop the seniors and managers as speakers.
All trainings are credited as Continuing Professional Education (CPE).
LIFE AT WORK
We maintain a healthy working environment in the office. We treat each other with the respect and the courtesy they deserve. You will never feel that you are left alone in an engagement; help is always within hands reach.
We are professional when it comes to work. We value integrity and honesty. We are committed to delivering our clients' needs beyond their expectations. We work efficiently as to provide time to our personal needs.
ON-THE-JOB TRAINEE
Start your career with us. Train as early as you can to be a professional accountant. We value guiding and mentoring our trainees. Our on-board training and our OJT program will help you in developing not only your accounting and auditing skills, but also your soft skills.
Announcement 31 August 2021: Please note that we are only accepting Bachelor of Science in Accountancy students. In addition, online internship is now closed, and we are now only accepting onsite OJTs. Please coordinate with your universities for waiver or editing your memorandum of agreement to allow onsite work.