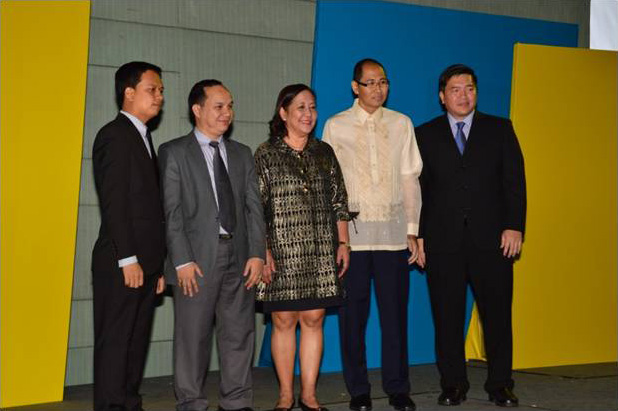 RSBA's partners celebrating the Firm's 20th Anniversary
R.S. Bernaldo celebrated its 20th anniversary on January 14, 2014, Marriott Hotel Resorts World Manila. The Firm invited clients and guests to be part of this memorable event.
Audit and Tax associates acted as ushers welcomed the guests to walk on a red carpet for a photo-op with the Managing Partner, Rosario S. Bernaldo (RSB). The event occupied both Ballrooms B & C. Guests are amazed by the big pan, which is about 2 meters wide, set in the middle of the cocktail tables. The pan is being used to cook and serve Spanish cuisine, seafood Paella by several chefs, led by the executive chef of Marriot Hotel. Several tables of French macarons of different colors hung up on a Belgian sculptured tree which is 3 feet high. Guests were also greeted by an ice sculpture of RSBA that served as a décor for the sushi bar.
The ballrooms were elegant, but still provided a laidback atmosphere fit for socialization. The program started at 7:00 p.m. with hosts, Mr. Elseo Aurellado and Atty. Ianne Joy Mallari. They welcomed the guests, among which is Benjamin Punongbayan, the founder of Punongbayan and Araullo, who served as an inspiration to RSB. The night was also graced with the presence of Honorable Senator Cynthia Villar and Honorable Congressman Toby Tiangco.
After dinner and being serenaded by Ms. Stephanie Anne Aguilar, a soprano and the prize-winner at the 2012 Jovita Fuentes Vocal Competition, the hosts prompted Atty. Bernaldo for a speech and the unveiling of RSBA's new logo.
Reprint of paintings to mark the year of the Horse in the Chinese calendar of 2014 were distributed as souvenirs to all attendees.
Atty. Bernaldo recalled how RSBA started and how it will move forward. The night ended with new friends and greater ties with clients and guests.